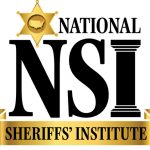 National Sheriffs' Institute
The National Sheriffs' Institute (NSI) is sponsored by the National Institute of Corrections (NIC) in collaboration with the Major County Sheriffs of America (MCSA), the International Association of Chiefs of Police (IACP), and the National Association of Counties (NACo). During the NSI, you will have an opportunity to consider the current state of your office and the changes or improvements you would like to see.
REQUIREMENTS:
1. You must be an elected or appointed sheriff.
2. Because this training is occurring at the FBI National Academy, all attendees will have to have a full background check.
If you meet the above requirement and are interested in being nominated to attend a future NSI course,
please fill out the short form below.
Course Descriptions are below the form.
National Sheriffs' Institute – Leadership Development
Course Description: Many new sheriffs entering the Office of Sheriff have limited experience acting as a chief executive officer, operating a local correctional facility, or providing leadership across the various domains. To successfully fulfill these duties, elected sheriffs require knowledge and training of leadership principles to maximize their service to the community. The curriculum is being redesigned to include many popular topics from previous sessions, updated for the current operational environment. The NSI course is intended to prepare first-term sheriffs for success and to strengthen the leaderships skills of elected sheriffs. There are no prerequisites for attending NSI.
Among the topics to be covered in this course:
Developing your Executive Team
Building and Maintaining Professional Ethics throughout the Organization
Building Trust and Engaging with your Community
Leading Your Agency through a Crisis
Leading Individuals and Teams through Conflict
Interpersonal and Organizational Communication
Decision-making: Rationale and Bias
Models for Leading Through Change
Developing External Partnerships
National Sheriffs' Institute – Jail Administration
Course Description: The National Sheriffs' Institute-JA course is a newly developed curriculum designed to enhance the knowledge of sheriffs regarding their responsibilities in leading the operations of a correctional facility. The course is approximately five days in length.
Among the topics to be covered in this course:
The Sheriff as Leader in the Jail
The Sheriff's Role – The Community Map
Legal Implications of Operating a Jail
Leadership for the Jail
Critical Aspects of Jail Operations
Assessing Your Jail Operation
Jail Improvement Planning