Sponsor or Advertise with SRLEEA
With 12 monthly Newsletters, 6 Digital Magazines, and an on-site conference program, you can reach our nation's small, rural & tribal law enforcement executives.
The Newsletters and Magazine are online publications available for viewing to anyone who goes to the SRLEEA website. The magazine has selected articles for all to view, and the whole contents available to SRLEEA members only.
Please take a moment to go to view our very affordable advertising rates. We do offer a discount for multiple Ads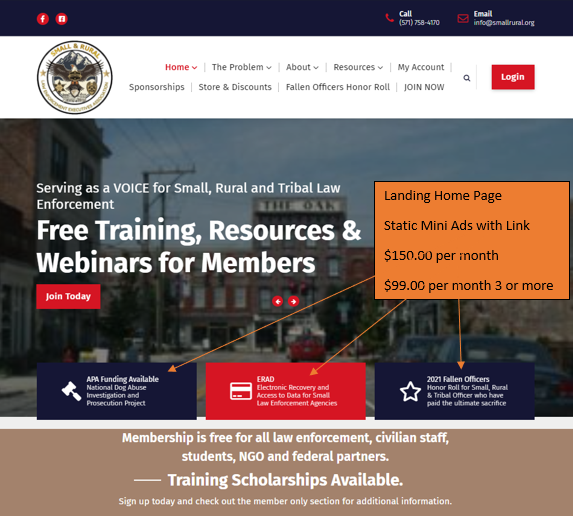 Place and Add on the SRLEEA website home landing page (3 available)

$150.00 per month
$99.00 per month if you contract for 3 or more.

$999.00 for a full year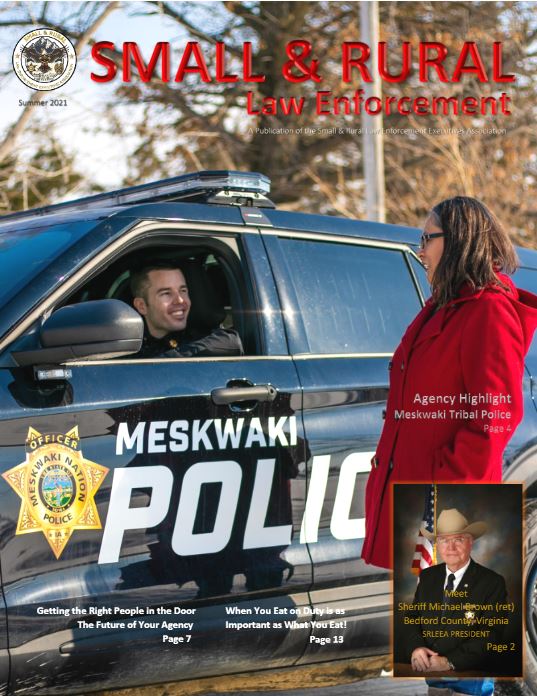 Magazine Advertising Rates:
Full Page Advertisement – $750.00
Half Page Advertisement – $450.00
Quarter Page Advertisement – $250.00
Two Page Center Spread – $1,200.00
Back Cover – $850.00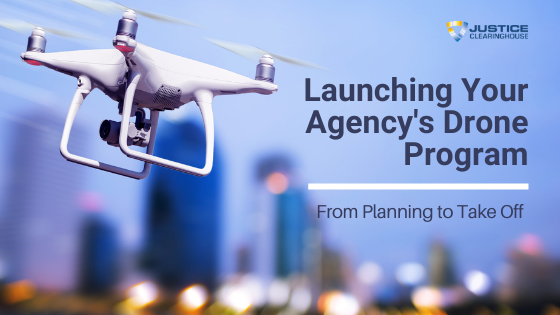 Sponsor a SRLEEA Webinar
$350.00 members – $450.00 nonmembers
Present an Advertorial Webinar $1000.00
SRLEEA will schedule the topics as well as provide the speakers, promotion, registration, and webinar facilitation. These webinars are presented on SRLEEA-approved topics, and SRLEEA will promote the webinar to members and nonmembers.
The sponsor will receive their company logo with a direct link to their website on the webinar registration page and in email promotions, as well as their logo on the opening page of the webinar. The company logo may not appear throughout all slides of the presentation.
Submitted presentations must conform to a professional standard as determined by SRLEEA staff. All presentations are subject to SRLEEA revisions and final approval. 
If you have a topic of interest to small, rural & tribal law enforcement and want to present your expertise please contact info@smallrural.org today.
2021 – 2022 Corporate Partner Program
Sponsorship Levels

Platinum

Gold

Silver

Bronze

Commitment

$15,000

$5000

$2500

$1500

Acknowledgment at Annual Conference 

•

•

•

•

Logo visibility on SRLEEA website with a link to your webpage

•

•

•

•

Use of the SRLEEA Corporate Partner Logo

•

•

•

•

The banner ad in SRLEEA's monthly newsletter to the membership – only one ad per newsletter.

4

1st

2

2nd

1

3rd

 

One (1) half-page ad in a SRLEEA bimonthly magazine "SMALL & RURAL Law Enforcement."

•

•

•

50% off

One (1) full-page ad in a SRLEEA bimonthly magazine "SMALL & RURAL Law Enforcement."

•

•

50% off

25% off

One (1) Webinar Sponsorship

•

50% off

25% off

10% off

A two (2) page advertorial or company spotlight on your company/products in a SRLEEA quarterly magazine "SMALL & RURAL Law Enforcement."

•

50% off

25% off

10% off

Consideration to have a speaker from your firm participate in the SRLEEA Conference or Professional Development program

•

 
 
 

SRLEEA will promote your company, events, or products with dedicated emails to the SRLEEA membership per year.

2

1

50% off

25% off

Acknowledgment at education and networking events. Unique speaking opportunities when available. No webinars.

•

 
 
 

A one-on-one meeting each year with the Executive Board and Board of Governors,

•

 
 
 
Monthly website ad on the home landing page.
2

1

25% off

10% off
Contact Us – info@smallrural.org or call (571)-758-417